In today's world of rapid change, everyone must be a lifelong student. 
The Education & Training Department facilitates and supports a culture of continuous education within the IATSE. Equally dedicated to leadership skills for union officers and craft skills and safety training for workers, the department sponsors and promotes union skills courses and workshops.
It also works closely with the IATSE Training Trust Fund, ETCP, USITT, and others to help workers keep abreast of new technologies, equipment, and styles of work. The Department operates outreach programs to high school and college students, creating a link to the workers of tomorrow.
By furnishing IATSE Local Unions and members access to training and education, we hope to continue to provide excellent representation and the best, most advanced, and highly-skilled workforce in the arts, media, and entertainment industries.
LEAP – Officer Institute – Trustee Training – IATSE Road Show – Webinar Channel – and more!
Education for IATSE Members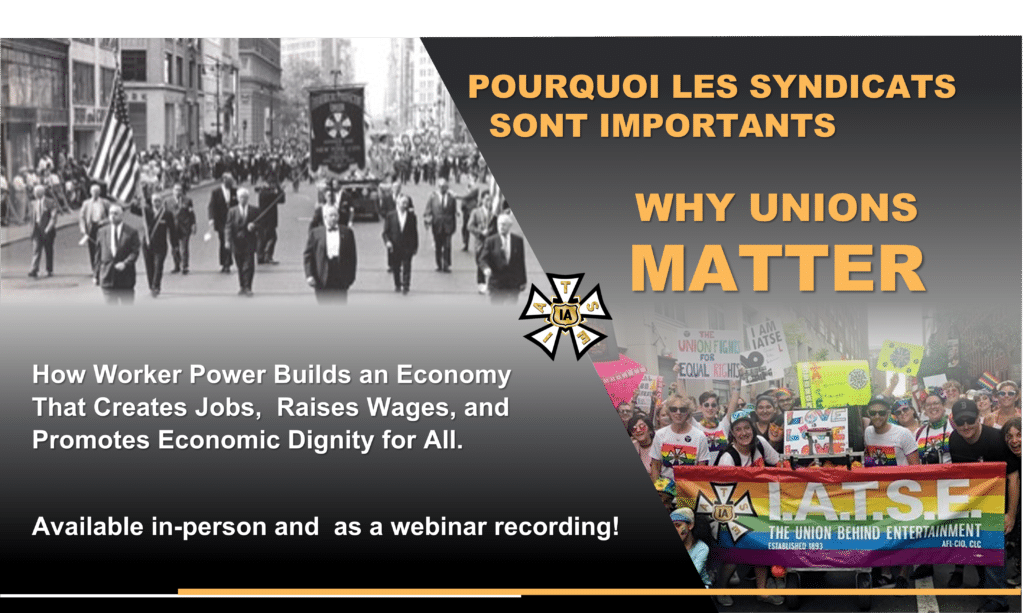 The IATSE Road Show: Why Unions Matter is an informative and enlightening presentation developed by the Labor Education Program at the University of Arkansas Little Rock and the IATSE.
The Road Show covers:
How are unions essential to a healthy political & economic democracy?
Who acts as the safeguard to corporate power?
What role do unions have in building an equitable future for all?
How Worker Power Builds an Economy That Creates Jobs, Raises Wages, & Promotes Economic Dignity for All.
Three versions are available: U.S. (English), Canadian (English), and Canadian (French).
REQUEST AN IN-PERSON ROAD SHOW STOP
If you would like to host this presentation in your city, please contact Jennifer Halpern at the IATSE General Office at jhalpern@iatse.net to receive more details and to schedule a date.
WATCH THE IATSE Road Show WEBINAR
To access a recording of Why Unions Matter, register here:
U.S. Locals https://iatse.co/May11whyunionsmatter
Canadian Locals https://register.gotowebinar.com/recording/3332091300754810635
Canadian Locals (French) https://iatse.co/PorquoiLesSyndicats

Education & Training Department webinars focus on several topics relevant to IATSE workers including leadership, union skills building, and craft skills and safety. 
Watch them all at https://www.gotostage.com/channel/iaeducationforall.
CRAFT SKILLS AND SAFETY TRAINING:
The IATSE Training Trust Fund is the primary source of craft skills and safety trainings for IATSE workers; however, the Education & Training Department works closely with the Training Trust Fund to provide IATSE workers with comprehensive trainings to promote safety and health in the workplace.
Education for Local Union Leaders
This section will be updated as new courses are announced and applications become available.
FOR U.S. AND CANADIAN LOCALS

October 16 – 20, 2023
Toronto, ON
FOR U.S. AND CANADIAN LOCALS

February 26 – March 1, 2024
Linthicum Heights, MD
Local Union Trustee Training
FOR U.S. AND CANADIAN LOCALS

November 4-5, 2023
Los Angeles, CA
Leadership Development Week
FOR U.S. AND CANADIAN LOCALS

November 13-17, 2023
Tampa, FL
21-Day Habit Forming Challenges


21-Day Challenges offer an opportunity for IATSE membership to expand our understanding of diversity, equity, and inclusion.
2021 Racial Justice Challenge (Documents from the Convention)
Diversity, Equity, Inclusion and Belonging are union issues. Making sure that all workers can thrive in our unions and in our workplaces ensures that together we will rise.
The presentation below was used in the media and messaging education session during the Winter 2016 GEB meeting. Please feel free to download and distribute to your local. You can use the presentation as-is, or tailor it to fit the needs of your local, using the PPT (PowerPoint) file.
2015 Winter & 2014 Summer
The documents below were used in activism education sessions during the Summer 2014 and Winter 2015 GEB meetings. Please feel free to distribute to your local. You can use the materials as-is, or tailor them to fit the needs of your local.
USITT – https://www.usitt.org/


Hidden Career Path Days
Produced jointly with the Roundabout Theatre Company's Education Team, "Hidden Career Path Days" aim to showcase 'behind the scenes' careers, enhance students' appreciation of and exposure to careers in technical theatre, and equip them with knowledge of the skills required and the pathways possible to pursue those careers.  Watch this short video to learn more.