Meet Costumer Designer and Local 891 member Rafaella Rabinovich. Rabinovich has been a member of Local 891 for six years and is a Canadian-born, Israeli-raised first-generation union member. With a background in theatre, Rafaella admits that there were many things that inspired her to become a costume designer and join the entertainment industry.
"I wanted to be a set designer when I was younger but ended up being more involved with costumes," she says. "It was another way to tell a story that I found a home in – and while looking for more work in theatre, I traveled to the east coast to work in the costume department for Cirque Du Soliel. When I came back to Vancouver after a couple of years, the industry was booming, and I knew that I just wanted to dress people in colors and patterns."
In our recent interview below, Rafaella details the process of costume design from reading the script to collecting visuals through research and illustrating the character, plus her most recent project new Netflix original series, The Imperfects.
To create the perfect design, what questions would you ask a director to ensure you understand their vision?
The first question I ask a director is how they "see" the character, and based on what the script requires, I will ask many different things. It's a work in progress and changes based on the script and dynamics. My main intention while communicating about the design is to ensure the vision is met at its highest potential and that we can all be happy and proud of it.
What are the most important aspects to research when working on a period piece?
To me, the most important aspect of the research is accuracy and authenticity, while considering the script's requirements and reading about real people and places from the time. Additionally, understanding the historical landmarks, events, and people of the space and time helps, along with learning about the colors, patterns and fabrics available and the different techniques used to both manufacture and maintain clothing, so I can offer the most immersive experience to the viewer.
What have been some of your favorite costumes to design and why?
At the moment, I'm really into The Imperfects, it's the last show I did for Netflix, and I'm so proud of it and all the work that went into it. My team really made a visual impact, and I was privileged to have had a real visual voice on this show. I'm always going to be proud of To All the Boys and Project MC2, both those shows helped me figure out my esthetics and style, and it was celebrated in many ways that elevated my career.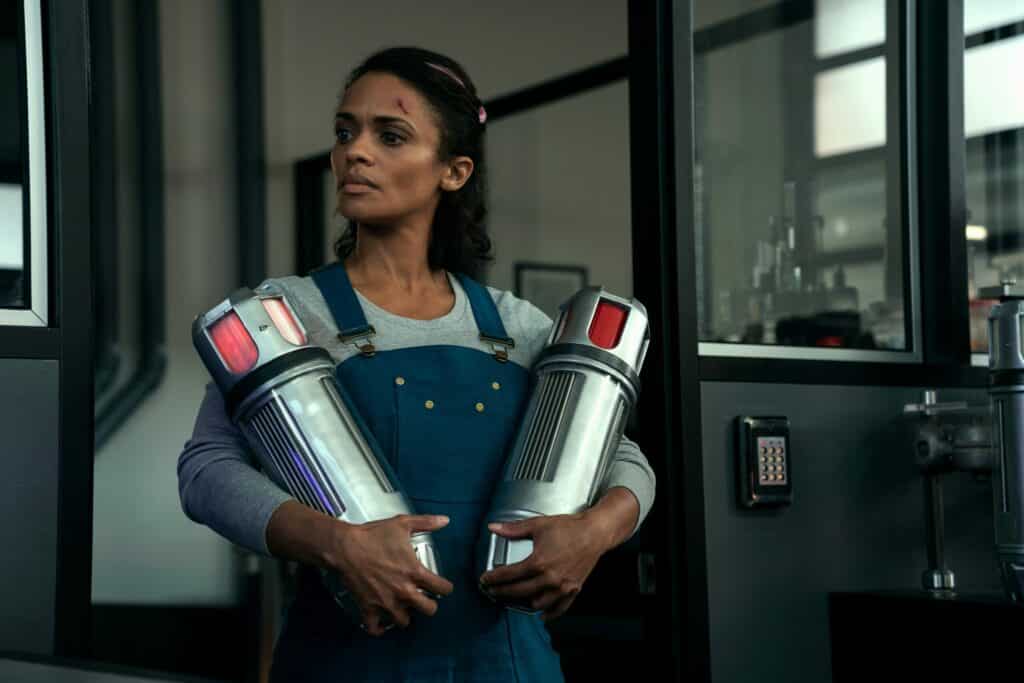 What is your process for creating a costume design for a new character?
After reading the script and discussing it with the director, I start collecting visuals by doing my research and illustrating the character to figure out what will its language be. At the same time, I consider the script wardrobe breakdown like stunts, multiple, interiors/exteriors and things like that in order to know better what sort of look we need for the character and the scene so I can get it to the camera. We then shop and build, fit the designed outfit on our actors, and go through an approval process. Sometimes we have more work to do after and start slotting outfits into corresponding scenes.
You recently worked on the Netflix series, The Imperfects. Tell us about how you individualized the style of each character to build on their story as a group, as well as the unique level of detail that went into the costume design of the series.
I wanted to elevate the show by giving them each a distinct look, making it so that they have their own dialect within a shared language because the transformation of the character through wardrobe is meant to encapsulate the story in a way that serves both the show and the viewer.
The work that goes into it must be extremely detailed. I spent a lot of time analyzing the script and getting in the head of the character by using layers and texture, patterns and colors while considering the way they move and grow throughout the episodes. One of the key elements in Tilda's wardrobe was the use of her jackets as armor.
She's also the one hardest to get through to and the one that would throw herself into a pit of fire for the gang. We spent a lot of time making sure she looks too cool for us and with a very distinct sense of style that only she could pull off. At the same time, Juan slowly opens up while he becomes more comfortable with his family and, therefore, his identity and he learns more about his powers and isn't as scared of them anymore.
And Abbi, in fact, represents in her details the idea of how small details matter, the choices made behind every pin she wears, patterns on stockings, prints on shirts, and when and where they show up are meant to show the ever-growing complex human she is and how simply by getting a bigger voice she becomes more and more comfortable with who she is.
For someone wanting to be a costume designer or join the entertainment industry, what advice would you share with them?
Be kind to yourself and to the people around you, it's a hard industry. Be persistent and organized, cultivate relationships and remember that no show is too small. Start by working on other shows while working on your portfolio. Learn from seasoned costume members and teams, and also follow your heart. Don't be scared to hustle, it's hard work, and it's worth it if you get to do what you love.
If you haven't already be sure to check out Rafaella's amazing work on The Imperfects, which is now streaming on Netflix!