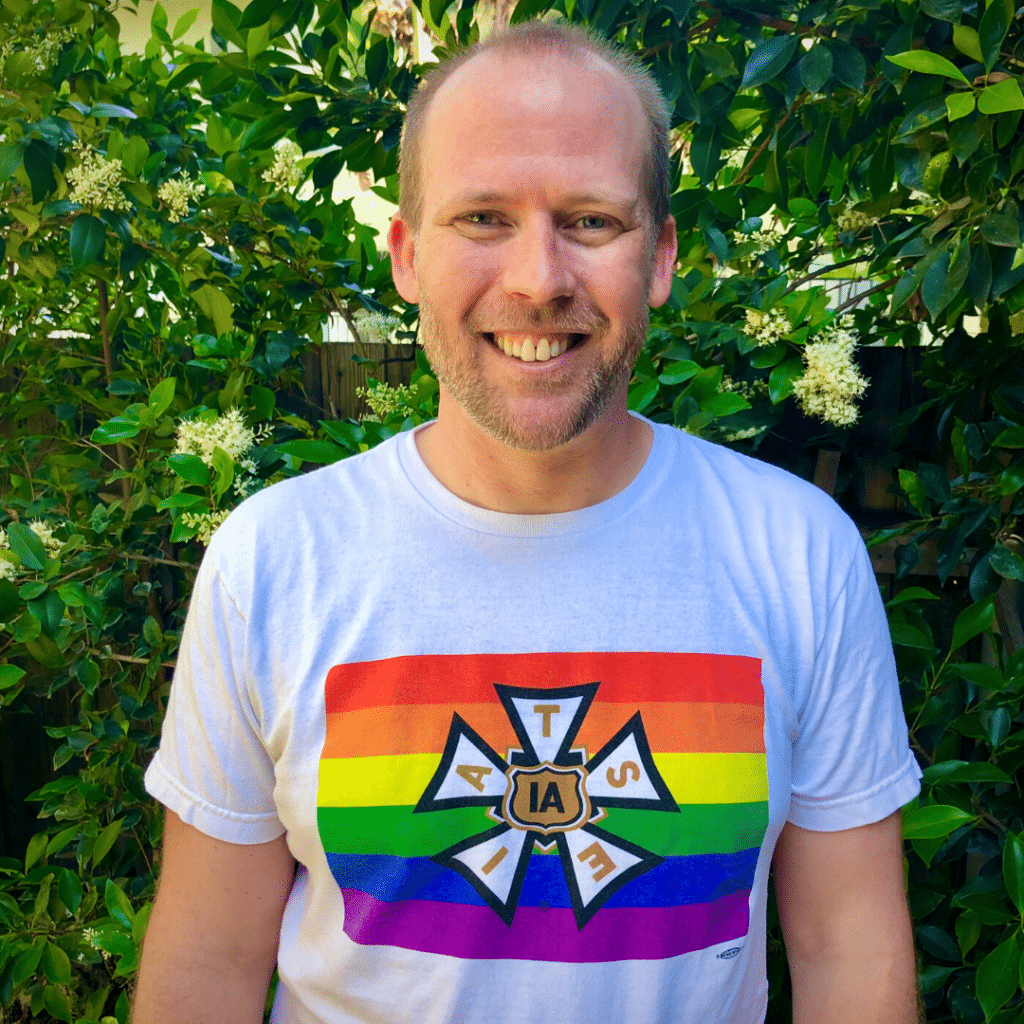 Local 884 Business Representative Doug Boney, is a member of the IATSE Pride Committee and he represents the IATSE on the NEB of Pride At Work. Boney says his eagerness for wanting to help other queer members is what led him to discover Pride At Work.
"I began searching a few years ago. It all started by simply wanting to do more for other queer members," he says. "After I came across Pride At Work, I decided to speak with Mike Miller (Int'l Vice President/Dept. Director, Motion Picture & TV Production) and write International President Loeb about my efforts to help queer members."
After expressing his interests on how to help union members of the LGBTQIA+ community, Boney says he was appointed the position as IATSE representative on the National Board of Pride At Work by International President Loeb.
Boney admits that it means a lot to have the union's support and he's proud to see the LGBTQIA+ community be celebrated and recognized.
"An injury to one, is an injury to all," says Boney. "Showing that we all stand in solidarity and knowing that you're a part of a family is amazing. It makes you proud to know that your union family stands with you, by fighting for workers and the queer community."
Boney says after giving his report at last year's 2019 mid-winter GEB Conference held in Austin, on all the activities he had done with Pride at Work resulted in the birth of the pride committee being created.
"For a brief moment all the queer members came up to me, we were all outside and we decided to have an informal meeting," he added. "After speaking for twenty minutes, this would be the beginning in the first step to starting the Pride Committee."
Boney says this by far would become his proudest moment as an LGBTQIA+ IATSE member.
"To be the voice of a variety of backgrounds was an amazing feeling," he expressed. "It was inspiring. This moment was truly the catalyst of bringing us all together."
Boney also details one of his proudest moments as an LGBTQIA+ IATSE member was after taking a non-discrimination class.
"One of my other proudest moments was while being on the Board of Pride, I took a class on non-discrimination language and how to get it added to your contract," he explains. "Watching International President Loeb and Mike Miller go to bat and fight hard to get non-discrimination language included in our contracts was a proud moment. It's a great feeling to know your union is fighting for you in that way."
Boney encourages other LGBTQIA+ members to lean into their union for support and direction.
"If you're feeling lost or secluded, go to your local union. Be more of an activist," he says. "The union is here to help you and connect you to other Locals."
In support of LGBTQIA+ members, Boney says his Local recently marched in the Local Pride parade in Los Angeles along with Local 871 recognizing pride month, all while standing in solidarity with the Black Lives Matter movement.
"I honestly feel like I have found my calling," Boney says. "The support of the union has not only made me more confident but a proud queer person within myself."