Many veteran technicians might look back on their careers and wonder how things may have been different they had an opportunity to speak to professionals and ask questions before ever entering the industry. For Local 119, an invitation to guide the next generation brought into perspective the unique opportunity for broadcast technicians in Northern California and how Local 119 is poised to guide the future into the industry and the Union.
In April, leaders of Local 119 in Northern California were invited by San Francisco State University's Department of Broadcast and Electronic Communication Arts to participate in a broadcast seminar for the students. San Francisco State University's Department of Broadcast and Electronic Communication Arts is the largest and most influential program of its kind in the Western U.S.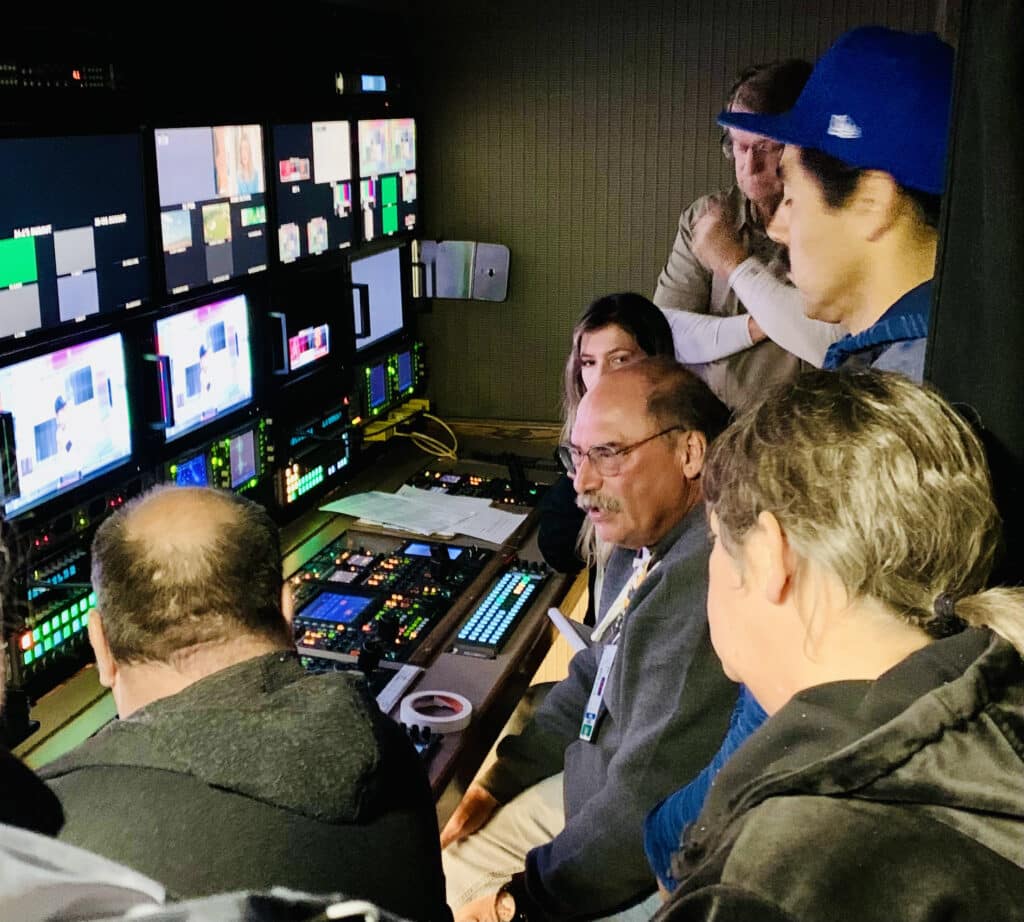 As homegrown broadcast technicians, President Darin Stephens and Local 119 Executive Board Member and SFSU alumnus John Marovich accepted the invitation with excitement. Marovich said, "I remembered lectures from industry professionals, and the experience and advice were helpful. As a student, it made me feel like the skills I was learning could lead to a career. I valued those opportunities and knew giving back to the department I graduated from was a chance I couldn't let slip by."
President Stephens explained how he was impacted by the IATSE Roadshow: "Why Unions Matter" that he saw when he attended the IATSE Officer Institute. "I remembered how powerful it was to start with that message, so I knew this was a special opportunity to introduce our union to the future workforce." President Stephens expressed that it was important for students to hear from industry professionals and members about what the union is and isn't and to share the IATSE's values and the union's role in establishing and maintaining industry standards for freelance technicians.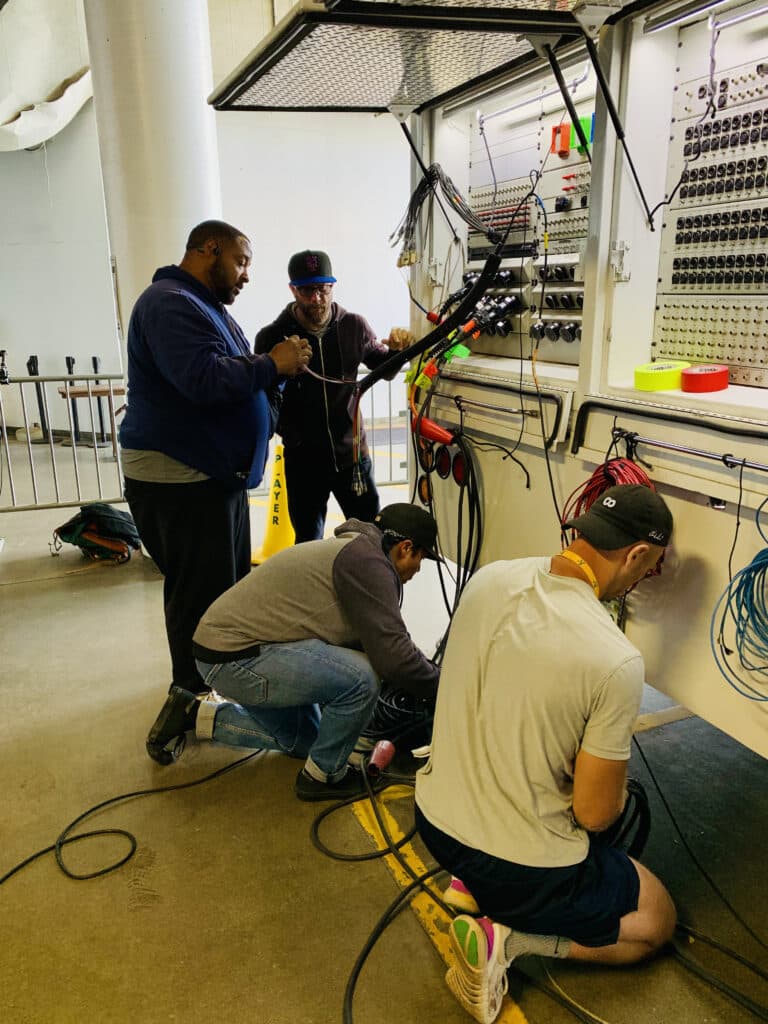 "After our opening presentation, we conducted a Q&A where the students could ask us any questions about the industry and the union." e students asked serious questions about paths to the industry, tips for success, and industry-wide issues like diversity, equity, and inclusion. "In the end, we both found this experience exhilarating, and we look forward to continuing our mentorship of the next generation, not just with SFSU but with all broadcasting programs in Northern California," said Stephens.
President Stephens has been a member of Local 119 since 2006 and has worked in the industry as a home show Graphics Operator for the San Francisco Giants and San Jose Sharks for over twenty years. He began his freelance broadcast career as an intern for the Oakland Athletics Diamond Vision Board Show. Executive Board Member Marovich has been a member of Local 119 since 2013. He started his career as a camera operator interning with the San Francisco Giants Vision Board Show in 2010 after graduating from SFSU with a Bachelor of Arts in TV and Radio.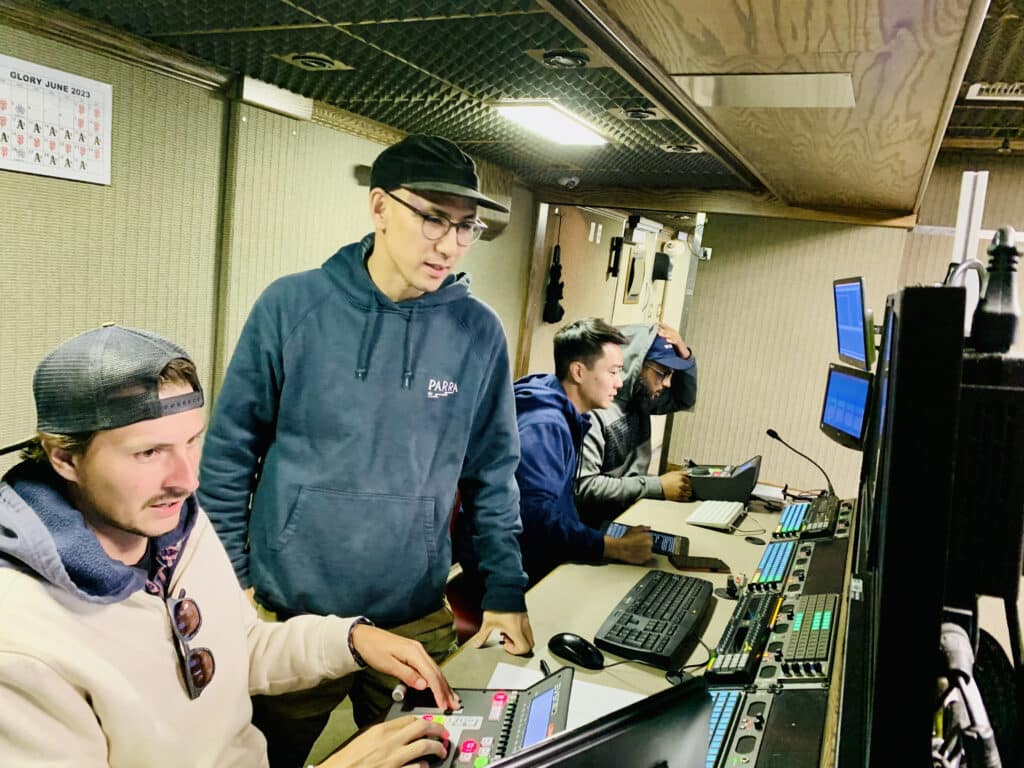 There is a unique pipeline of opportunity in Northern California that has developed some of the most talented broadcast crews in the region. Northern California is home to several world-class broadcasting programs at area colleges and universities, and, coupled with one of the country's largest markets for professional and collegiate sports, gives graduates entering the industry an established career path. Beginning through team internships, to becoming employees of the team's in-house game scoreboard broadcasts, and finally working on top-tier events on live regional and national broadcasts that air on tv, nowhere else in the country are the steps to a career in sports broadcast this clear and established, and it's important that our union is part of the process through mentorship and organizing.
Since the seminar in April, Local 119 members have successfully organized the San Francisco Giants Vision Score Board broadcast crew, some of whom were SFSU students. Local 119 has also sponsored several entry-level training courses led by veteran members for students wanting more industry experience. The Local endeavors to continue building relationships with the various broadcasting programs and mentoring the future generation to build a stronger union and industry.