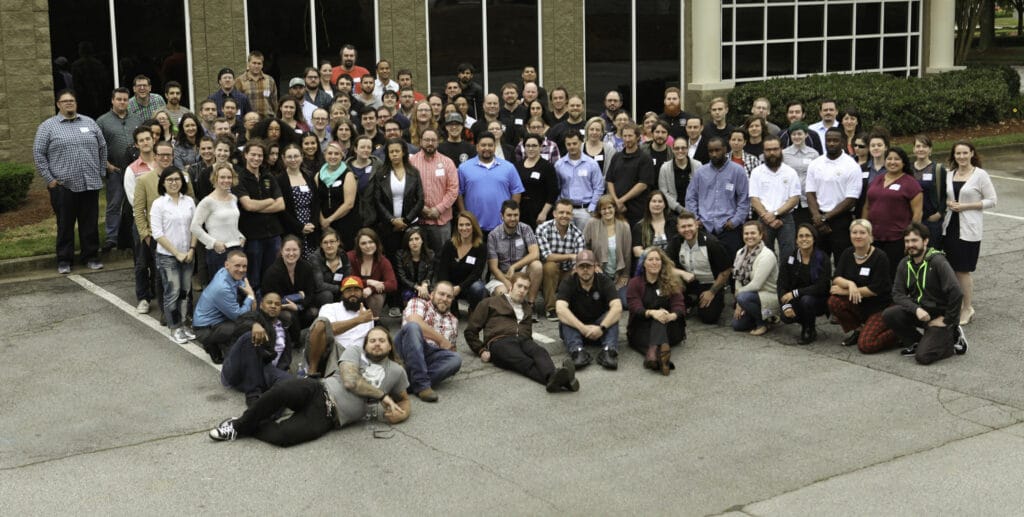 Overall, the Young Workers initiative aims to engage, encourage, educate, and support the next generation of active IATSE members and leaders to build long-term collective power. The AFL-CIO specifically defines "young workers" as those under the age of 35.
---
Creating a Young Workers Committee
A Young Workers committee can be founded at any local union, and is independently governed with the goal of encouraging participation in your Local. Local Young Workers committees have run food drives, organized phone banks, volunteered their skills, organized fellow entertainment workers, showed solidarity with other unions, and brought education opportunities to their local unions.
Click here to learn how to start a Young Workers Committee at your Local Union.
---
Young Workers Conference
Every two years, the International Young Workers Committee hosts the Young Workers Committee Conference, where active young members gather to learn about the history of the IATSE, gain valuable leadership skills, and network with IATSE kin from across the United States and Canada.
Previous Young Workers Committee Conferences include the 2012 Philadelphia YWCC, the 2014 Portland, OR YWCC, the 2016 Atlanta YWCC, the 2018 Silver Spring, MD YWCC, and the virtual 2020 YWCC.
DETAILS FOR THE 2022 YWCC:
Dear Local Union Officers,
Nominations are now open for the 2022 Young Workers Committee Conference!
After this unprecedented year for our union, we anticipate more interest than ever for Local Unions to nominate Young Workers to attend our 2022 Young Workers Committee Conference (YWCC), which is to be held April 12-14 in Minneapolis, MN. However, we only have space for 100 attendees, so this conference will sell out fast.
If you would like to submit a Young Worker to attend, the process and requirements for nominations are follows:
Nominations by Local Officers: All Young Worker Conference attendees must be nominated by at least one Local Union Officer (President or Business Agent) with a letter for LEAP pre-approval. This letter serves as the nomination, and a sample template will be provided to Local Officers through email on January 5. The committee will accept these through email or snail mail to the office.


Two members per local (maximum) may attend.


35 and under, please: When choosing who to nominate, be mindful that the AFL-CIO Young Worker Advisory Council defines young workers as those under 35 years of age. Though we won't be checking IDs at the door…


Spaces are limited and will be available on a first-come, first-served basis. Once 100 spaces are filled, additional nominations will be placed on a waiting list. Priority for the waitlist will be partially based on when nominations are received.


Lodging, Food, and Costs: The International will provide lodging for the two nights during the conference and some meals. All other costs, including travel, will be at the expense of the attendee or their local union. PLEASE DO NOT BOOK HOTEL SPACE AT THIS TIME. Upon the young workers accepting their nominations, they will be provided a booking link to ensure they are on the International's room block.


Repeat Nominations: Members previously nominated for the 2020 Young Workers Committee Conference (which was canceled and conducted virtually due to the COVID-19 pandemic) may be nominated again, and will have preference on the wait-list if the Local decides to do so. However, if your Local sent members to one of the committee's in-person conferences in the past (2018 or earlier) and you wish to nominate them again, we will require a statement detailing their involvement in the Local, their community, the workplace, or politically, since their last conference.


Cut-off date: All nominations must be received by end-of-day March 8th, 2022 to provide time for the member to accept the nomination, register, and book their room. However, as we said in bullet #4, we expect the conference to sell out sooner than that. The sooner you send us your Locals' nominees, the more likely your Young Worker(s) are to be accepted to the conference.


COVID-19 Safety and Vaccines: We value the health and safety of Young Workers Conference attendees and intend to follow recognized safety precautions surrounding COVID-19, including any requirements imposed by the host venue. Persons attending the in-person Young Workers Conference, including guests and IATSE staff, are required to fully receive a COVID-19 vaccine approved by a national health agency in the United States or Canada, respectively (the U.S. Food and Drug Administration (FDA) in the United States and Health Canada in Canada) before attending. Please note that under guidance from public health agencies, including the U.S. Centers for Disease Control and Prevention (CDC) and Health Canada, people are generally considered "fully vaccinated" two weeks after their second dose of a two-dose vaccine series (e.g., Pfizer or Moderna) or two weeks after a single-dose vaccine.

Conference participants may be required to wear a mask over their mouth and nose while on-site indoors. Persons coming in close contact with an infected individual or experiencing symptoms consistent with COVID-19, in the 14 days prior to the Conference should expect to isolate and receive a negative COVID-19 viral test result prior to attending the Conference.


You must sponsor the young workers you choose to send by submitting a letter for pre-approval. Click here for a sample pre-approval letter. It is not essential that you use this template, so long as your letter contains the following required information:
The letter must be sent by you, the local union officer, on the letterhead of your local and include:
The name of the attendee, local number, and name of the sponsoring local officer(s)
Specific reference to the Young Workers Conference
The phone number and email address of the attendee
If the submission is for a return attendee: a statement detailing the member's involvement in the local, politically, in the community, or in the workplace, since the last Conference they attended.
Please submit all pre-approval letters electronically to:
Alternatively, they can be mailed to the IATSE General Office at:
     IATSE Young Workers
     207 W. 25th St., 4th Floor
     New York, NY 10001