Industry Member Associations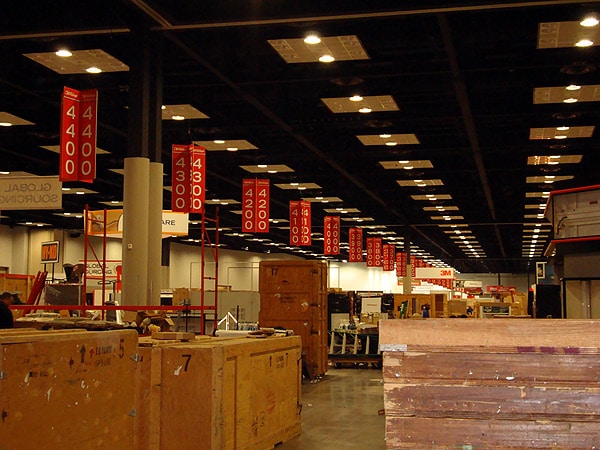 Over the past several decades, the Tradeshow, Convention, and Exhibition Industry has grown into a billion-dollar business, supporting 6.6 billion jobs and adding $396 Billion to the annual GDP. Cities and states throughout the country have benefitted from the tax revenue generated by the out of state visitors attending these live events, resulting in expanded meeting and exhibition venues to accommodate growth.
IATSE Stage and Exhibition Locals are engaged in the installation and dismantling of local, national, and international conventions, exhibitions, corporate meetings,  and tradeshows. The International's Tradeshow and Display Department has formalized its relationship with multi-national and regional employers by initiating national agreements.
Whether it's rigging the annual Auto Show, transforming an arena to exhibit heavy equipment, staging a political convention, installing digital displays, setting up audio-visual equipment and projection, some of our most talented crews exhibit their skills to ensure the successful display of technology, manufacturing, and services in the United States and Canada.
Each year, the work evolves with new technology, requiring more state-of-the art training for our members. The Department helps to facilitate the development and delivery of training programs including Audio Visual Essentials, Computer Essentials, Customer Service, Networking, and Zoom Technician Basics to name a few.  
As co-bargaining agent for all tradeshow and display work contracts under the International Constitution, the Department has built strong relationships with stage and exhibition locals across the United States and Canada. The assistance delivered goes beyond negotiations. The Department is actively involved in developing corporate, contract, and organizing campaigns, building relationships and leverage within and between Locals, and strengthening the work of local officers by standardizing conditions across the industry.  
As the industry reopens following the 2020 pandemic shutdown, the need for combined virtual and in person events and the technology used to produce them has exploded. The IATSE Tradeshow and Display Work Department is dedicated and ready to improve the event experience for all attendees, crews, exhibitors, and vendors. Our customer service skills, and technical and safety training will ensure the safety and success of conventions, tradeshows and exhibitions going forward. 
Industry Member Associations