By a Nearly Unanimous Margin, IATSE Members in TV and Film Production Vote to Authorize a Nationwide Strike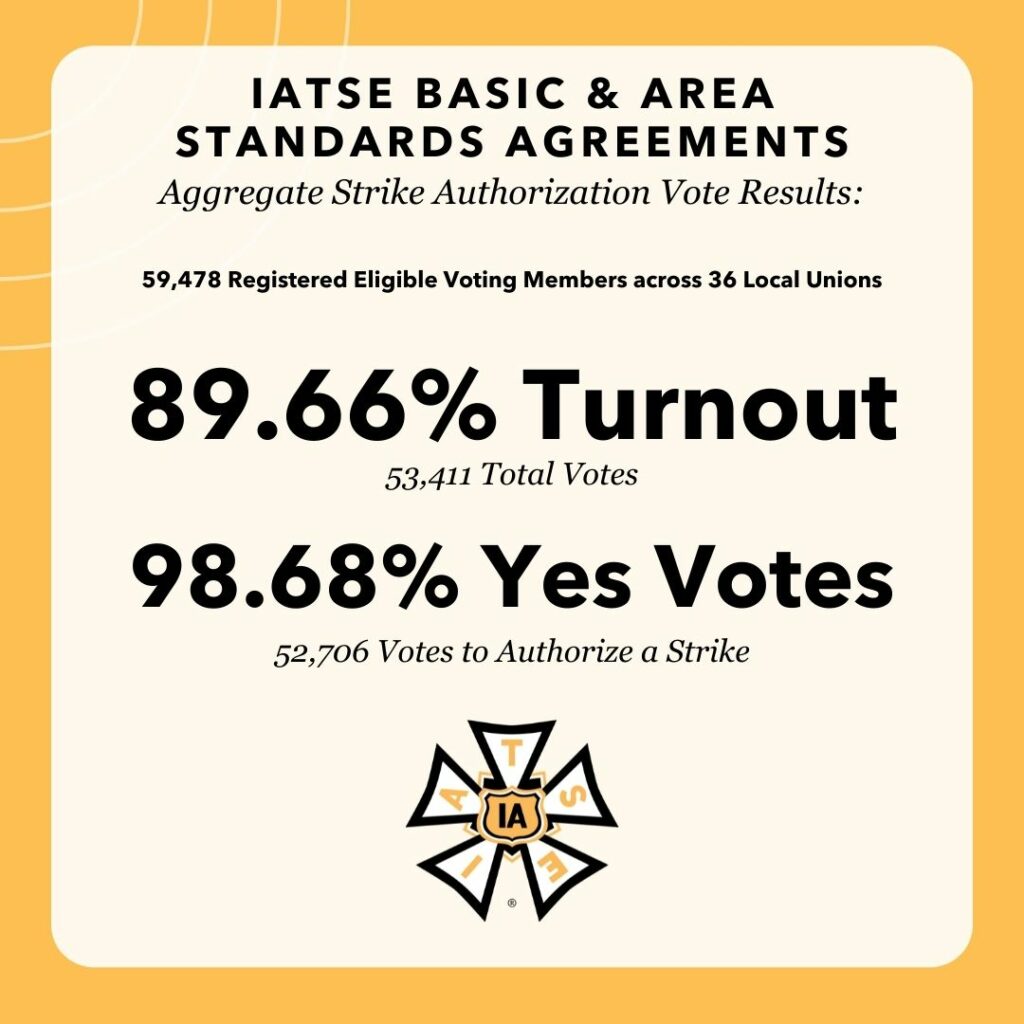 Results show 90 percent of eligible union voters cast ballots, with more than 98 percent of them in support of strike authorization.
Members of 36 local unions, representing 60,000 workers from across the country, grant approval for International Alliance of Theatrical Stage Employees (IATSE) International President Matthew Loeb to call the union's first nationwide strike over quality-of-life issues.

"The members have spoken loud and clear," said Loeb. "This vote is about the quality of life as well as the health and safety of those who work in the film and television industry. Our people have basic human needs like time for meal breaks, adequate sleep, and a weekend. For those at the bottom of the pay scale, they deserve nothing less than a living wage." View full statement ➔
IATSE thanks AFM Local 9-535 and Actors Equity for solidarity during successful one-day strike at North Shore Music Theatre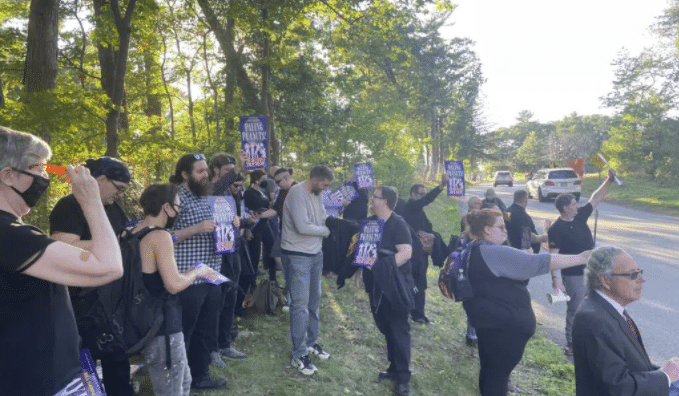 IATSE Local 11, and management have agreed to a return-to-work agreement which will bring the curtain back up while still agreeing to continue to negotiate for a formal agreement for the stagehands at the North Shore Music Theatre.
The stagehands at the North Shore Music Theatre and the IATSE would like to thank the musicians and the actors of the production of "Mamma Mia" as well as their leadership at  American Federation of Musicians (AFM) Local 9-535 and Actors Equity Association (AEA) for standing in solidarity with us in our struggle for representation in the workplace and a living wage. Read more ➔
Directors Guild of America Statement of Support for the IATSE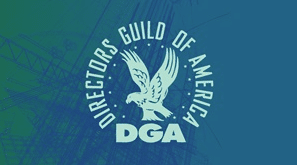 The Directors Guild of America released a statement of support standing with the film and television workers in their contract fight with the Alliance of Motion Picture and Television Producers (AMPTP).

In the statement they wrote, "the DGA National Board, as the representatives of more than 18,000 directors and members of the directorial team, stands in solidarity with our I.A.T.S.E. brothers, sisters and kin. The quality of life and living wage issues they are fighting for are important to all workers on set. We urge the producers and studios of the AMPTP to return to the bargaining table and make a fair deal addressing these critical issues."
The directors signing onto the statement of support include: Lesli Linka Glatter, Mary Rae Thewlis, Paris Barclay, Betty Thomas, Ron Howard, Barry Jenkins, Seith Mann, Ava DuVernay, Lily Olszewski, Joyce Thomas, Jon Avnet, Norberto Barba, Karen Gaviola, Julie Gelfand, Duncan Henderson, Todd Holland, Nicole Kassell, Kathleen McGill, Christopher Nolan, Millicent Shelton and Steven Spielberg.