IATSE Praises Biden Budget Proposing Record Increase for Federal Arts Funding
As the union behind entertainment, we know that funding for the arts directly impacts job growth and work for our skilled craftspeople. Federal arts agencies – like the National Endowment for the Arts – support working families, bolster local economies, and ensure all Americans have access to the arts and entertainment.
The Biden administration's proposed budget includes $201 million in funding for the National Endowment for the Arts (NEA) for FY2022. This proposed increase of $33.5 million would be a record-high for the agency if enacted by Congress. With the devastating impact of COVID-19 still being felt by the arts & entertainment industries, we commend President Biden for recognizing the economic and cultural importance of investing in the arts. This is a welcome departure from the previous administration, which unsuccessfully attempted to eliminate the National Endowment for the Arts altogether for four consecutive years. Read More ➔
IATSE STATEMENT ON KAMLOOPS RESIDENTIAL SCHOOL DISCOVERY
The discovery of a mass burial site containing the bodies of 215 children at the former Kamloops Residential School is a terrible but important reminder that Canada's racist and genocidal approach to First Nations people is not something that happened in our distant history. The residential school system continued to operate until 1996. Our hearts go out to all survivors of the system as well as their families, who are also survivors.
The federal government will be lowering flags to half-mast as an act of mourning and solidarity and we urge government to conduct similar investigations on the grounds of all former residential schools. We encourage any of our employers whose business or workplace displays a flag to lower it to half-mast. Where practicable, we also encourage all IATSE members to wear orange as a form of reconciliation and solidarity with Indigenous people. Read More ➔
IATSE Supports the Hospitality and Commerce Job Recovery Act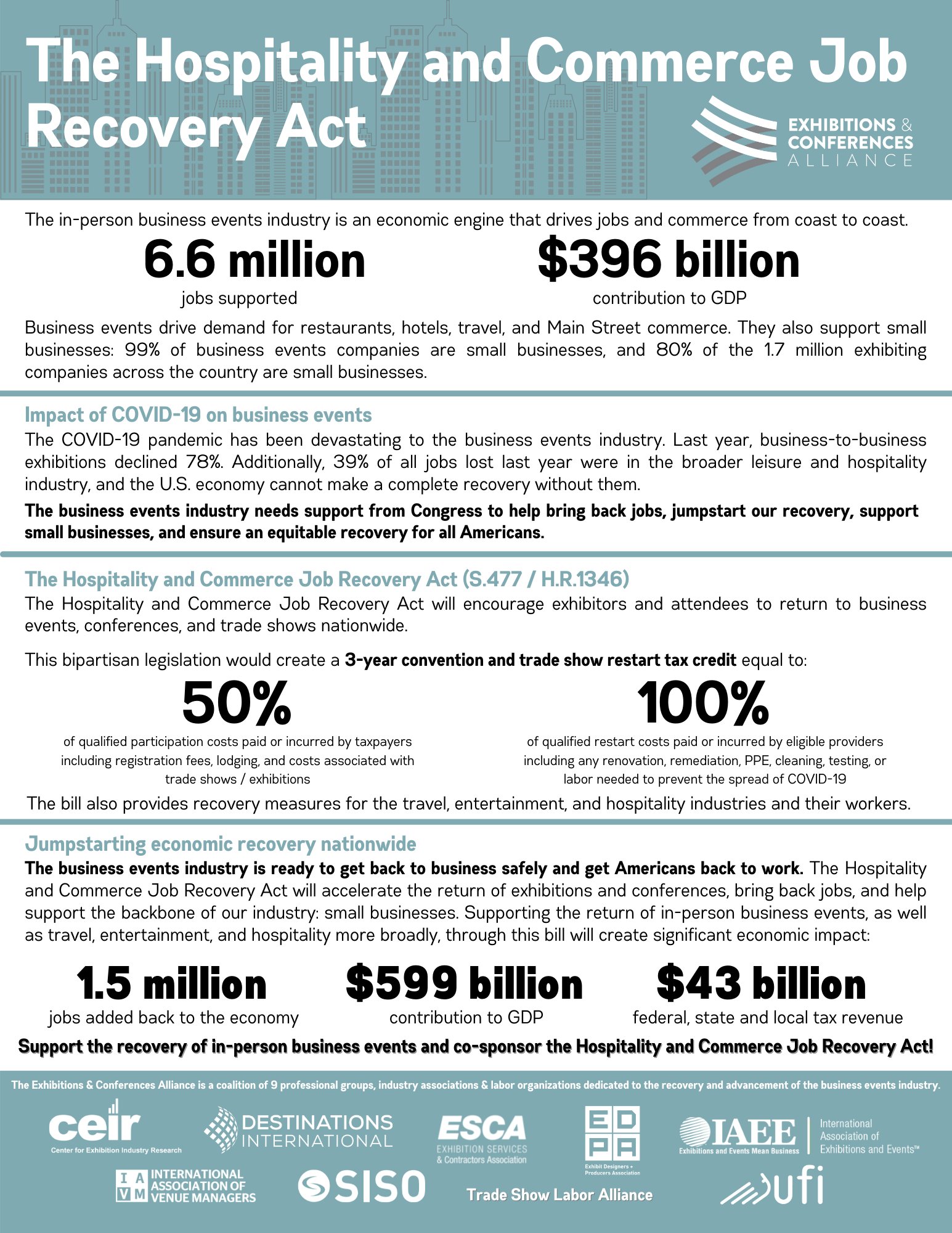 Workers in the trade show and in-person conference industry were the first to lose work, and will be among the last to return. Congress has the opportunity to jumpstart our economic recovery, not just within the industry, but across ALL industries. The Hospitality and Commerce Job Recovery Act will accelerate the return of exhibitions and conferences and bring back union jobs to our cities.
Theater union angry over proposal to add kiosks at Strathmore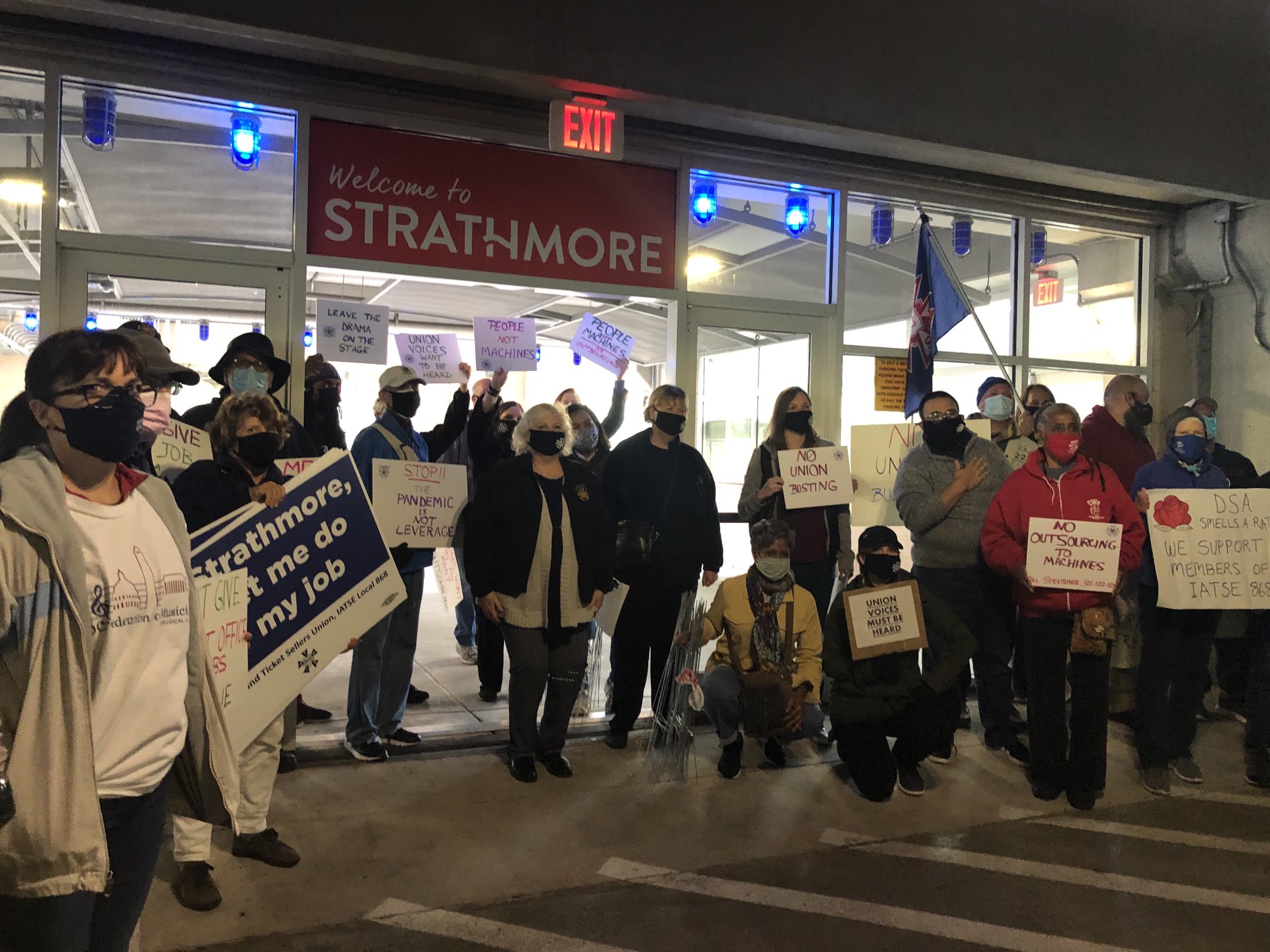 Strathmore box office workers and allies were out in force Sunday to protest management's proposal to spend over 70k on kiosks while dedicated ticket sellers remain laid-off and unemployed. All this despite the fact the venue received over $1 million in taxpayer money in 2020. Anne Vantine, the business agent for IATSE Local 868 said on Thursday that Strathmore is trying to replace people with kiosks. "Machines can't answer their questions. For a piano concert where people won't be able to see the hands, the machine's not gonna say 'in order to see the hands, you want to sit left, where the pianist sits,'" she said. "And there's a myriad of things like that that only a ticketing professional can answer for a patron, that will give them the seat that they need for their particular desires."
Vantine said the union doesn't think that Strathmore intends to bring back all of the laid-off ticket sellers. Rather, the union sees the kiosk proposal as an "attempt to break the union." Read more ➔
AVIXA NETWORKING TECHNOLOGY | DISTANCE LEARNING VIDEO CONFERENCE
AVIXA developed this distance-learning version of their Networking Technology course. Just like an in-person group class, students will meet with the instructor in real time to receive personalized skills training, ask questions, and learn from the insights of the group. You will learn the basics of networking from an AV perspective, while gaining the tools you need to have a meaningful conversation with your IT peers. Collaborative exercises and demos will allow you to practice the skills you'll take back to work with you. Learn more ➔