Heat Illness Prevention Webinar – IATSE Education and Training Department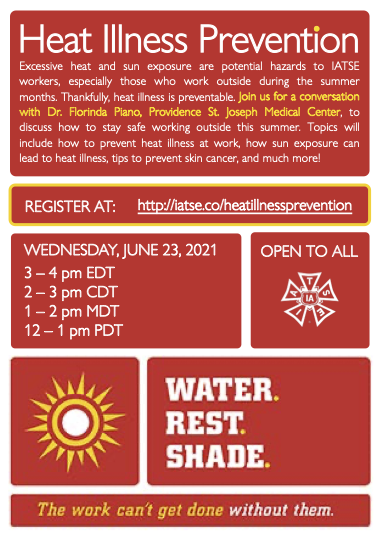 Excessive heat and sun exposure are potential hazards to IATSE workers, especially those who work outside during the summer months. Thankfully, heat illness is preventable. Join us for a conversation with Dr. Florinda Piano, Providence St. Joseph Medical Center, to discuss how to stay safe working outside this summer. Topics will include how to prevent heat illness at work, how sun exposure can lead to heat illness, tips to prevent skin cancer, and much more! Register here ➔

IATSE Comms and Political Departments are still requesting stories from members impacted by cessation of $300 Federal Unemployment Benefit


Do you live in one of the 26 states ending the enhanced $300 weekly unemployment benefit? The IATSE Comms and Political Departments are collecting stories from live events workers who rely on this critical lifeline as they wait to be called back to venues. Tell us how this decision adversely impacts you, your career, or your family and help us send a message to lawmakers that this benefit should remain until all of our kin have returned to work. Please send your story to comms@iatse.net
Anti-Trans Bills in the United States – IATSE Pride Committee

The 2021 legislative session has seen almost three dozen state legislatures in the U.S. pushing anti-trans legislation, with over 115 bills introduced since the beginning of the year. These bills include bans on doctors providing gender-affirming treatment, keeping trans kids from playing sports, mandating which gender a person is eligible to have on their government issued documents, and regulating what bathroom a person may use. To be clear, these bills are not addressing any real problem, but are being pushed by conservative organizations to sow fear and hate.
Most of these bills are targeting trans kids, who already face rejection from family and friends, bullying, and harassment. This causes trans kids to feel unsafe in environments where they should feel safe – in the home, at school, in the doctor's office – simply for who they are. Learn how you can support trans kids and their families ➔

Poll: A majority of voters support the PRO Act
The act, a sweeping labor rights bill, would strengthen unions through overriding Republican-led "right to work" state laws, which impede unions' abilities by allowing workers to join without paying dues. It would also penalize companies that restrict union activity, and would bestow independent contractors — such as drivers for Uber and Lyft — with the right to organize and collectively bargain.
The Vox/DFP survey found 40 percent of Republicans support the PRO Act, along with 74 percent of Democrats and 58 percent of independents. Overall, the poll found the bill has the support of 59 percent of likely voters. Read more ➔
'Met,' Stagehands Union Race Clock To Avert Phantoms of the Opera
The long shutdown has taken a toll on the world-famous opera house: a June 2 letter from New York OSHA to George Forrest, the Met's safety director, directed him to investigate hazards including scenic backdrops "falling out of lifting mechanisms" and the presence "of molds at the base of the Orchestra pit area."
The letter added, "If we do not receive a response by June 9, 2021 indicating that appropriate action has been taken or that no hazard exists and why, an OSHA inspection will be conducted."
The resumption of talks with the stagehands comes less than a month after close to 1,000 union members and their supporters gathered outside Lincoln Center to blast what they said was management's attempting to "capitalize on the pandemic" by imposing "draconian pay cuts" as a condition of job security. Read more ➔