IATSE Pride Committee Commends US House on Passage of the Equality Act
We applaud the US House of Representatives for passing the Equality Act (H.R. 5). This important legislation amends existing civil rights laws, including the Civil Rights Act of 1967 and the Fair Housing Act, to explicitly prohibit discrimination against LGBTQIA+ individuals in the areas of employment, education, credit, jury service, federal funding, housing, public accommodations, and more. As US Representative David Cicilline (D-RI) said in his announcement reintroducing this legislation, "In 2021, every American should be treated with respect and dignity."
The Equality Act now moves to the U.S. Senate, where it is set to be introduced by Senators Jeff Merkley (D-OR), Tammy Baldwin (D-WI), and Cory Booker (D-NJ), but passage in this chamber is not guaranteed. The bill will need to garner broad bipartisan support to obtain the 60 votes necessary to pass. Read Full Statement ➔
Seven years ago today, Sarah Elizabeth Jones was tragically killed and several others were injured by a train while on set for the film 'Midnight Rider'. It was the most horrific tragedy to occur in the Motion Picture and Television production industry in modern history, and this day, February 20th, 2014 is a day that lives in infamy within our union.
As we mark another year since the loss of sister Jones, her memory reminds us that we must be relentless in our pursuit of safety, and we must all remain constantly vigilant to defend it. Sarah's legacy echoes to this day, as we continue our fight for safer workplaces, even in the midst of a global pandemic.
We are all Sarah Jones, and everyone on set has a role to play when it comes to safety. If you see something, say something. If you feel unsafe on set for any reason, including harassment, please send us a tip via the IATSE Safety Hotline at 844-422-9273 or our safety info app.
Join the IATSE Education Department on Monday to Kick Off National Ladder Safety Month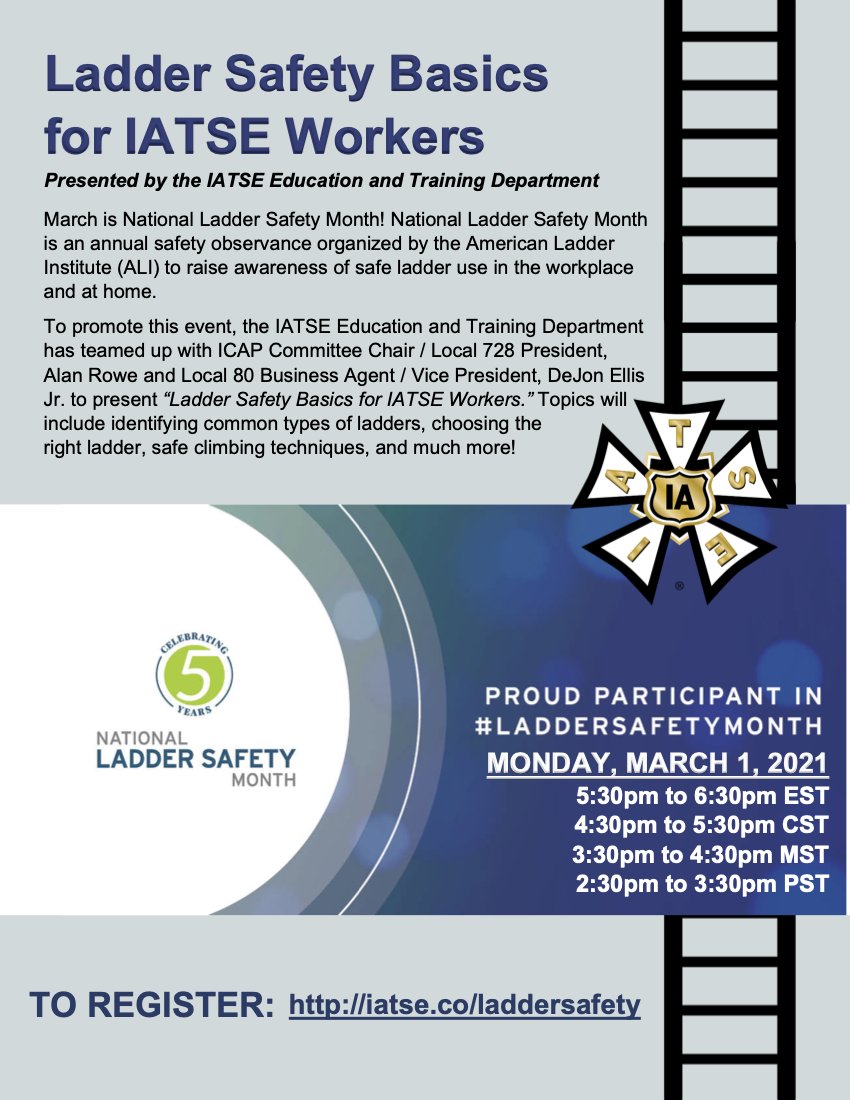 IATSE Local 26 Solidarity with Amazon Union in Alabama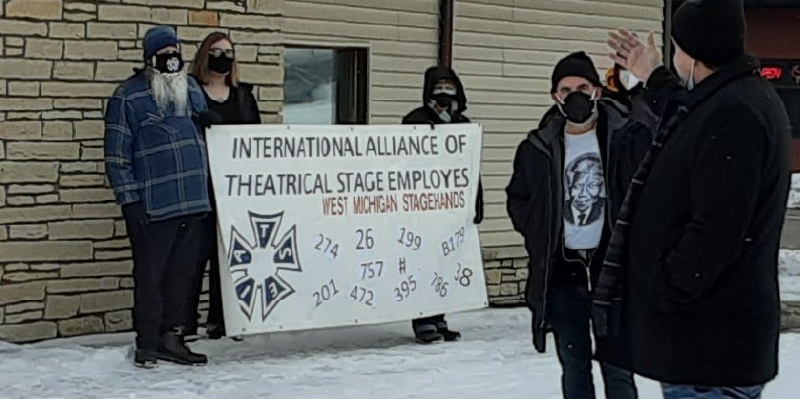 Grand Rapids, MI – Outside the stagehands union IATSE Local 26 headquarters in Grand Rapids, union members and youth activists attached big signs to their cars saying "Amazon needs a union!" and "Solidarity with Amazon!" They gathered in the freezing cold on February 19 for a press conference and car caravan to three Amazon centers, including a giant new one promising to employ 1000 workers.
Josh Roskamp, IATSE 26 business agent, said, "Working conditions at Amazon are harsh and the work and lifting can be back-breaking. That is why workers are forming a union. They want safety and respect on the job." Read full story ➔